SOLUTIONS FOR EVERY NEED
Gain independence, grow communication and literacy skills and live a richer, more fulfilling life with our assistive technology and AAC solutions.
Communication Devices
Touch, switch and eye gaze-enabled devices for communication and computer access
Communication Apps
Apps, software and resources for communication and computer access.
Assistive Technology
Alternative access methods such as switches and buttons, low-tech solutions and accessories.
Multi-Sensory
Immersive sensory rooms, mobile sensory units and accessories.
Want to try one of our devices?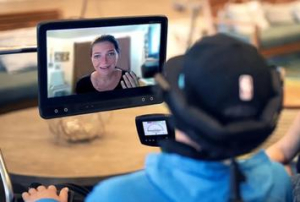 To help keep everyone safe we now offer remote assessments
Check out the new support section of our website
COMMUNICATION AND AAC PRODUCTS
Choose from a range of different Communication (AAC) devices that we have available to help users with different disabilities or impairments that can be assisted through touch, Eye-Gaze or Switch Access.
Many people have difficulties communicating, whether that's because of physical disability, learning difficulties or motor coordination problems, it can make speech difficult if not impossible for some. Whether you realise it or not we all use AAC in day to day life!
MULTI-SENSORY
Sensory stimulation is important no matter what your age, disability or Impairment. We provide the best in Multi-sensory equipment from standard multi-sensory stimulation equipment to the SHX System.
Multisensory rooms are environments for controlling sensory stimulation aiming at helping its users in a therapeutic way by providing lots of benefits such as: boosting intellectual activity, promoting interaction and communication or providing relaxation. They are ideal for therapy, learning, stimulation, relaxation and fun.
ASSISTIVE TECHNOLOGY SOLUTIONS
Access Methods come in many forms. At Safe Care Technologies, we believe everyone should have a voice. We have handpicked the best assistive technology products to bring you a wide range of touch, Eye-Gaze and Switch controls for users with disabilities or impairments.
Technology has changed the face of education and for many students with disabilities, it has levelled up the playing field and enabled them to realise their true potential. Assistive technology comes in many forms, a software program, or product system that is used to increase, maintain, or improve the functional capabilities of persons with disabilities, low-tech communication boards, alternative access methods and even switch adapted toys.
ENVIRONMENTAL CONTROLS
All users should have the ability to live as independently as possible whether it's to turn on the television or open a door, we offer a range of different Controllers and Enablers that work together with your communication device to give you complete control of your surroundings.
Our aim is to help you gain as much independence as possible at home. No matter what your disability or age, we offer peace of mind for families and independence for you as the user. Don't let your disability hold you back, using the latest in smart technology, environmental control can wirelessly communicate and control many of today's modern technologies.
COGNITION AIDS
Everyone should feel that they have control over their daily life. We offer a range of simple cognition aids for use at home or when you are out. These will help you creature structure in your day so can visually see what you should be doing and track how long to spend on each activity.
We want you you be in control of your daily life. Our range of cognition aids allow you to gain an overview and create structure in your everyday life, whether you need a simple aid that helps indicate when you should start an activity and for how long, or a complete solution.
MOUNTING SOLUTIONS FROM REHADAPT
Rehadapt Mounting Solutions from Germany in partnership with Safe Care Technologies, offer the highest quality mounts for all your devices, switches or controls. Our mounts range from Wheelchair mounts, table mounts and floor stands and can connect all types of devices from iPads, smartphones, AAC devices, joysticks and much more. We even offer a Virtual Mounting Solution (VMS) where we will design a custom mounted most suited to your needs
Thank you for being so kind your quick prompt professionalism is a credit to yourself and the company you work for.
Thank you so much for everything and to Michael too. You have been so accommodating and a pleasure to deal with. I would be happy to work with you again in the future.
Thanks for all the ongoing support we receive from you and your team with our pupils and their assistive technology. Every query has been answered in a timely, professional yet friendly manner and it means a lot to me to know that I have such fantastic support when I experience a difficulty.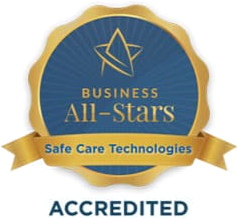 Communication Devices
We are delighted to announce that we have been awarded a Business All-Stars award for best in practice. We successfully navigated three rounds of auditing which proved performance, trust and customer-centricity. You can read the full article on our accreditation here.
Communication Devices
We were awarded Best Core Tour 2019 for the best international Snap+Core Tour. These events are held every year and are coming to a location near you soon.
LEADING BRANDS WE WORK WITH